Does your cat eat well?
If the answer is no, Your cat may be thinking 'I wish I had a better bowl ! '
This is one of the "more cat-friendly bowls" that's suitable even for flat-faced cats and short-legged cats. This cat-friendly food bowl might be your cat's best-friend!

As a first step, please check the following before deciding whether to buy or not.
There are what we considered when designing this, and what kind of features this has.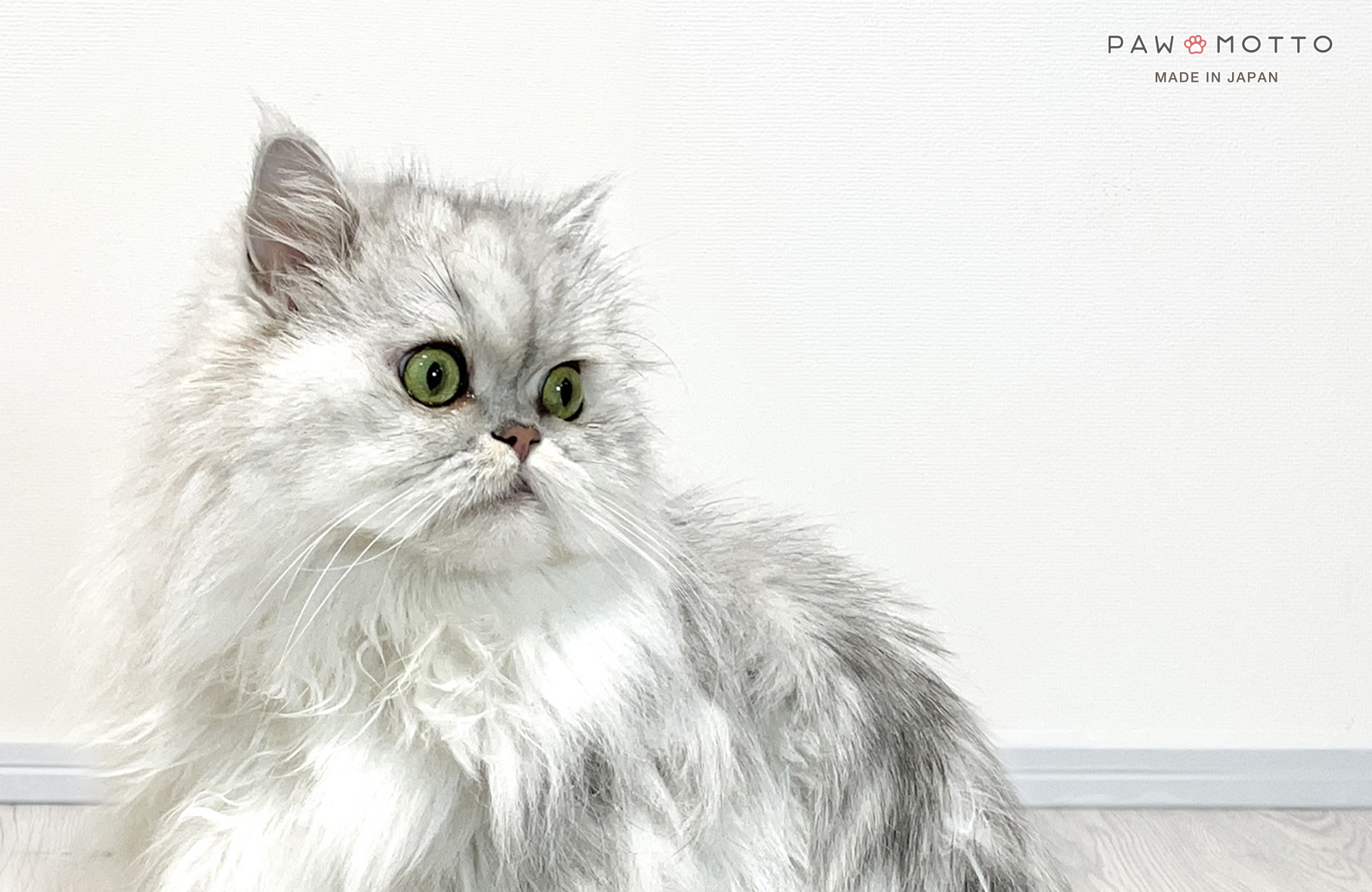 "Thanks to My Flat-Faced Cat Muse"
First of all, let me tell you about the inspiration behind the development of this bowl, the designer's own flat-faced cat muse, his name is Mani, a long-legged Minuet. And the designer is me.
I was worried about his poor eating habits and searched for a bowl that would allow him to eat more easily. However, I realized that there were no bowls on the market that would meet his needs, so I decided to create one myselves. As I observed Mani's eating habits, i noticed that flat-faced cats have a smaller upper jaw and tend to spill food more easily. This inspired me to create a solution that could not only help flat-faced cats, but also short-legged and elderly cats with similar issues.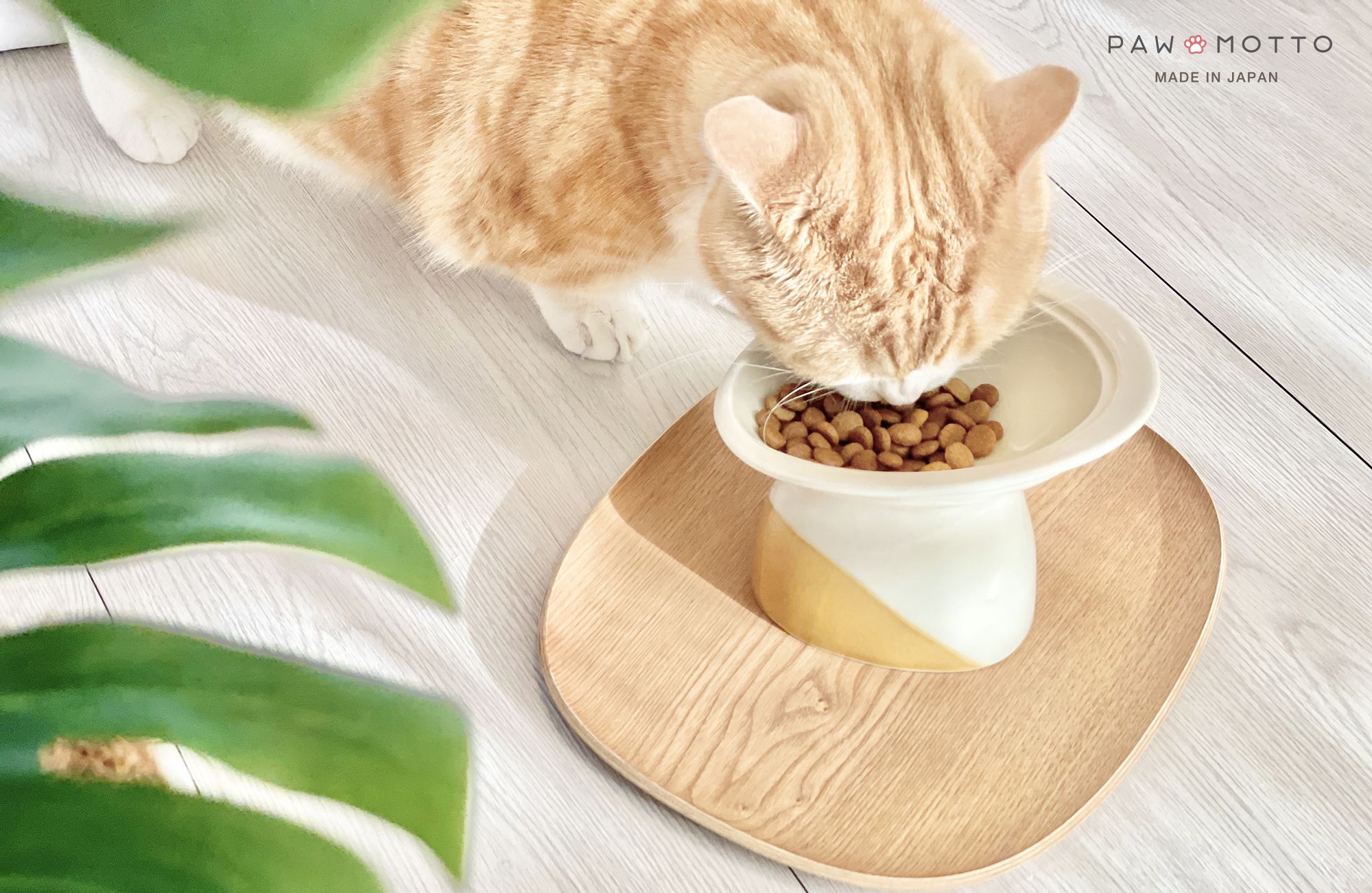 "What I considered when designing this bowl"
A cat's head is about one-quarter the size of a human's. A food bowl is a tool for cats to eat with just their tongue and mouth. In order to create a better food bowl, I had to consider not only these facts, but also the differences in the size and shape of cats' faces and parts depending on its breed, as well as the fact that each cat has their own eating habits. After numerous prototypes and tests, I arrived at the design of this triangular rice ball-shaped cat bowl.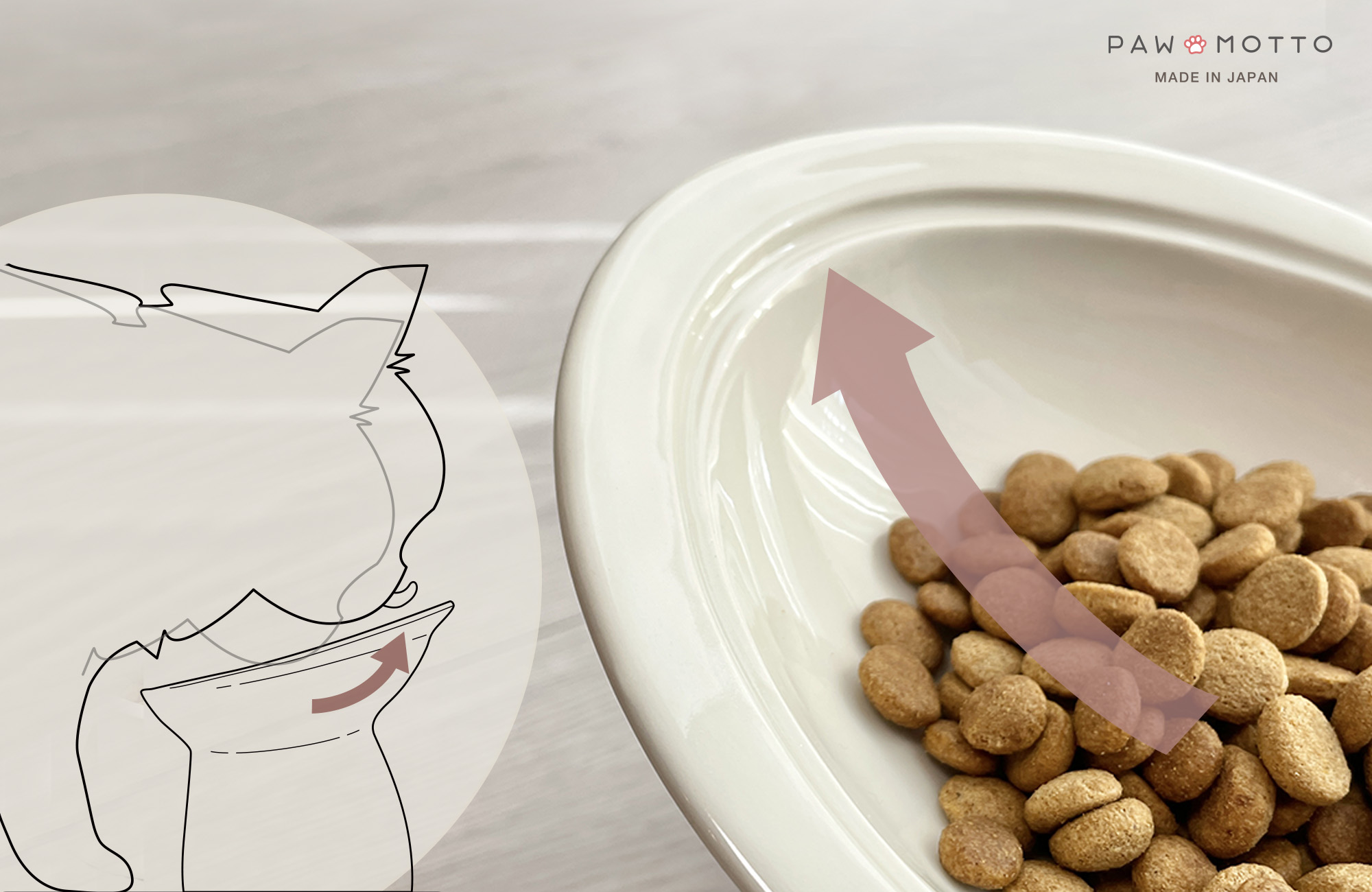 "Designing for Comfort: Thoughtful Considerations for Flat-Faced Cats"
The bowl has been designed with several details and considerations to make it comfortable for flat-faced cats to eat. For instance, the 'return' part of the edge of the bowl is designed in two stages to catch the food moderately, allowing even flat-faced cats to eat comfortably with the movement of their tongue and small upper jaw. Our specially-shaped rims have also been designed to help prevent spills and messes. The wide rim is slightly inclined inward, which is intended to be gentle on the eyes and cheeks. When viewed from the side, the rim is also slightly curved, which takes into consideration the burden on the cat's whiskers.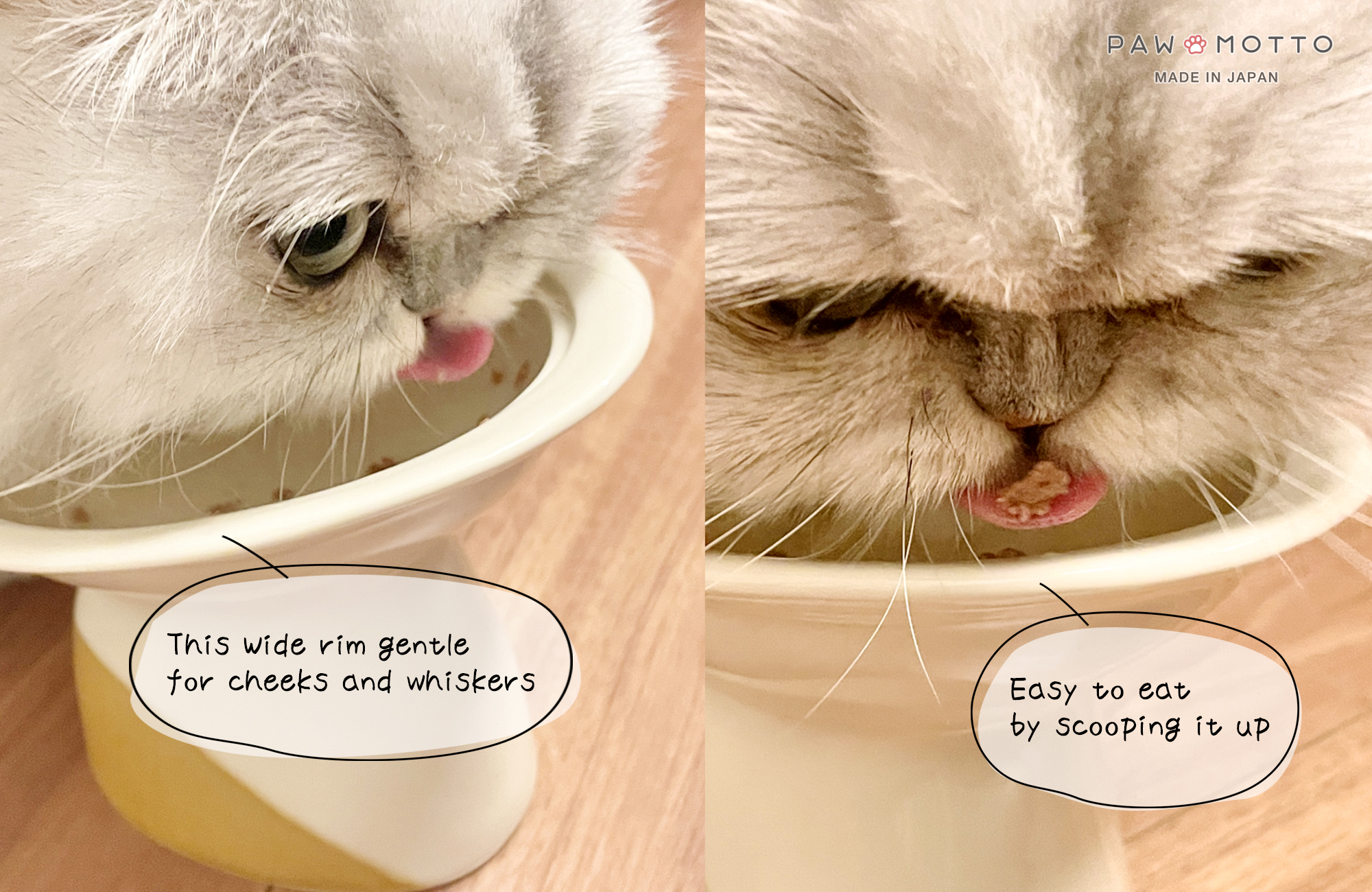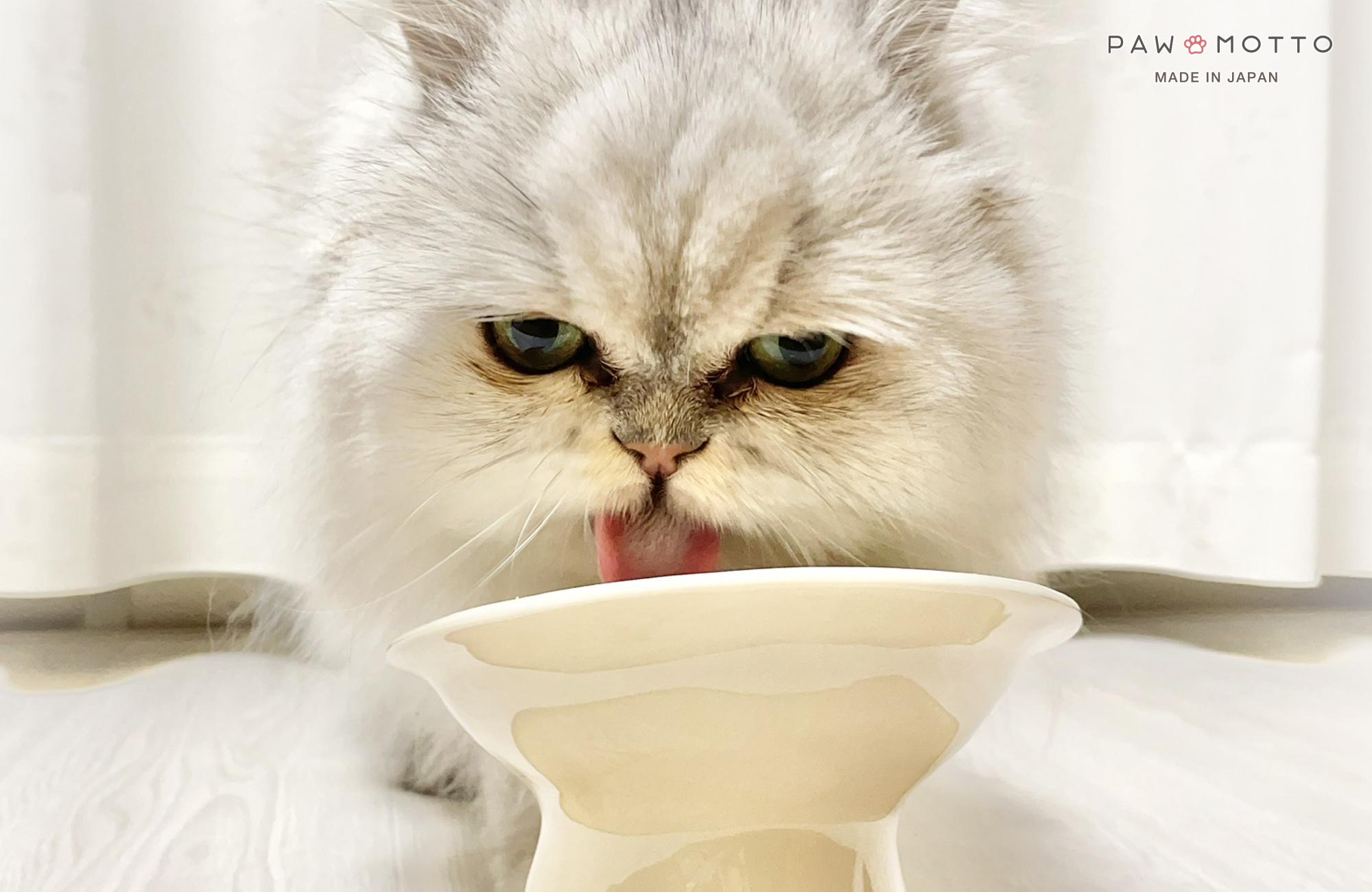 "Thoughtful Design Elements for a Better Eating Experience"
Of course, the design of the PAW-MOTT Cat Food Bowl takes into consideration the basic need to raise the legs, which eases the burden on a cat's cervical spine and reduces the risk of regurgitation (*1). Additionally, the bowl's gentle slope and two levels of food reflection were carefully thought out to support easier eating without requiring unnecessary force. These design elements were implemented with the intention of providing gentle support for cats during mealtime.
※1 Vomiting can also be caused by factors such as hairballs, constitution, and physical condition.

※2 PAW-MOTTO Cat Food Bowl is a "dish that supports spills and leftovers" designed based on our original research. Therefore, it does not completely prevent spills and leftovers from all cats. Depending on each cat's eating habits and preferences, spills and leftovers may still occur. Therefore, please observe your beloved cat carefully and consider reviewing their food and adjusting the size of the food as necessary.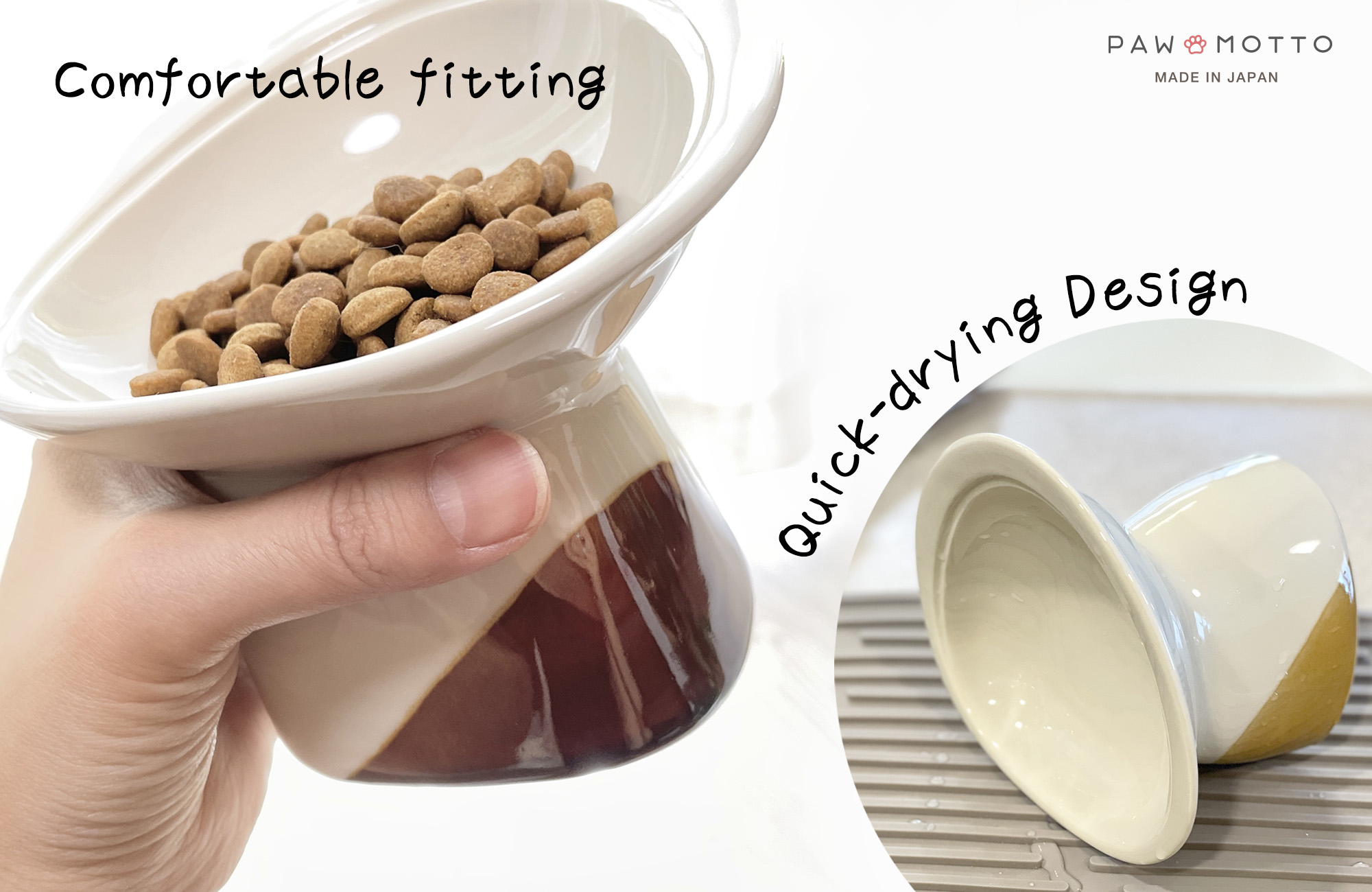 "This bowl has a moderate weight and is designed to fit comfortably in your hand."
The PAW-MOTTO Cat Food Bowl retains the designer's handmade roundness while being adjusted for mass production. Therefore, the surface of the bowl retains the soft irregularities unique to handmade items. This is because we wanted to emphasize the bowl's gentleness and create a feeling that it fits well in the hand. Additionally, with a weight of approximately 1 lb, it is lighter than a 16.9 fl oz plastic bottle of water and can be held with one hand. Despite this, the triangular base provides stable support. The characteristic shape makes it quick-drying, and you can easily clean it as well.
"Ensuring Human-Grade Safety Standards for Your Feline Family Member"
We understand that your cat is an important part of your family, and we want to provide the same level of safety for them as we do for humans. To ensure this, PAW-MOTTO Cat Food Bowl has undergone lead and cadmium elution tests and has cleared the strict standards set by the Japanese Food Sanitation Law, ISO-6486, and the California Proposition 65.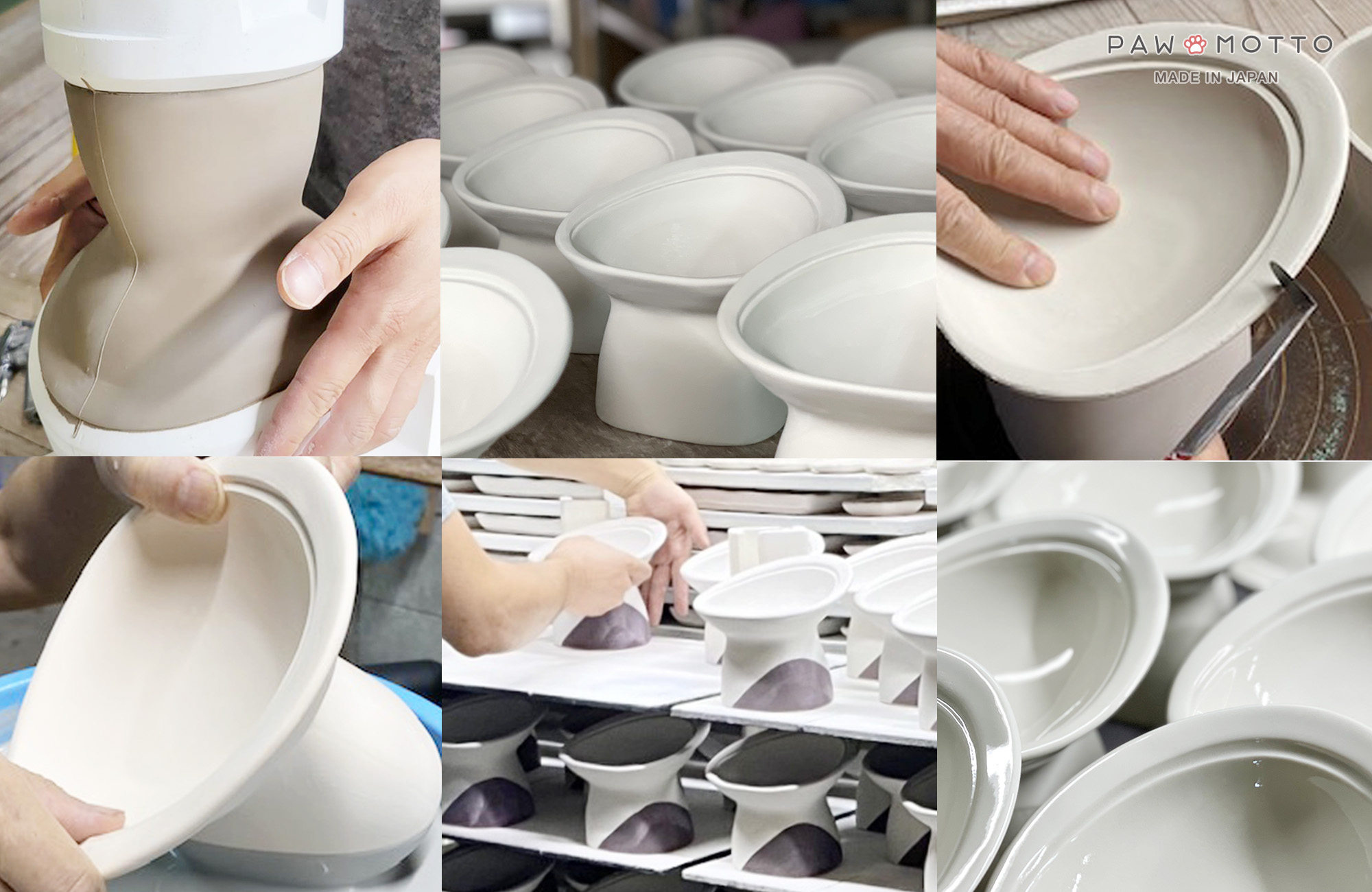 "Made in Japan with a Focus on Quality and Attention to Detail"
We entrusted a well-established pottery kiln in Seto with a proven track record and trust to create PAW-MOTTO Cat Bowl. They carefully considered the designer's vision and showed meticulous attention to detail, which greatly contributed to the realization of the product.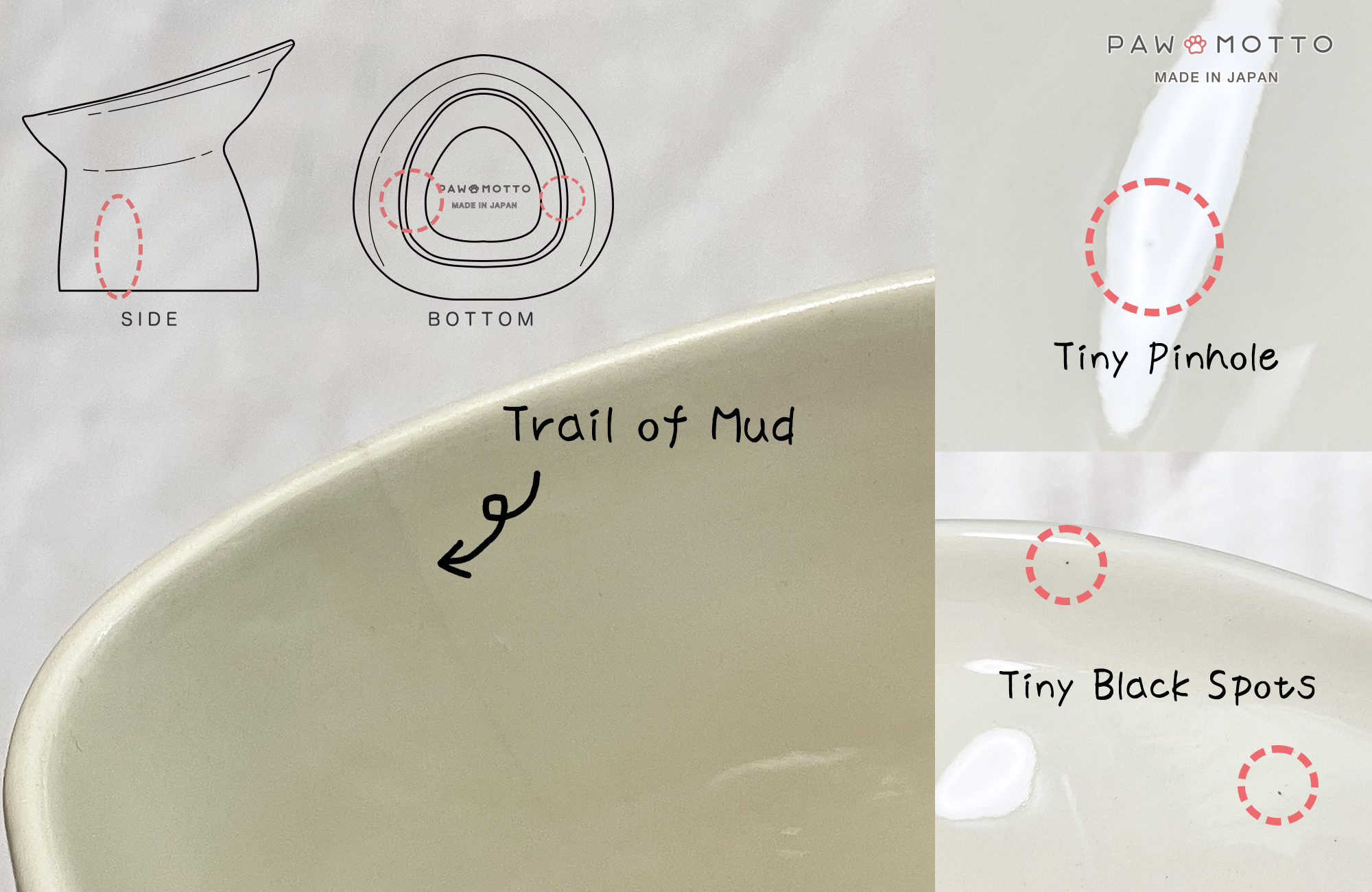 ※This product uses a molding method called "pressure casting," in which mud (clay) is filled while pressure is applied to a plaster mold for mass production. The ingredients of the mud poured from the filling port (runway) may remain as thin and fine lines even after firing. This is not a defect and does not affect the strength of the product, so please rest assured.
※This product includes phenomena specific to ceramics, such as "pinholes" (small indentations) that appear on the surface due to small organic substances contained in the glaze being burned off during firing, and "black spots" that appear on the surface due to iron powder contained in the clay. These are not defects, but rather unique characteristics of pottery.
"Please enjoy the uniqueness of the bowl."
Our bowls are uniquely crafted and may feature variations in color, shading, texture, and pattern. These characteristics are a natural result of the firing process and the individual hand-finishing of each bowl. Additionally, variations in color intensity may occur due to the glaze. We hope you appreciate and enjoy the one-of-a-kind quality of each piece, which includes unique phenomena such as 'pinholes' and 'black spots' that are not defects, but rather unique features of pottery.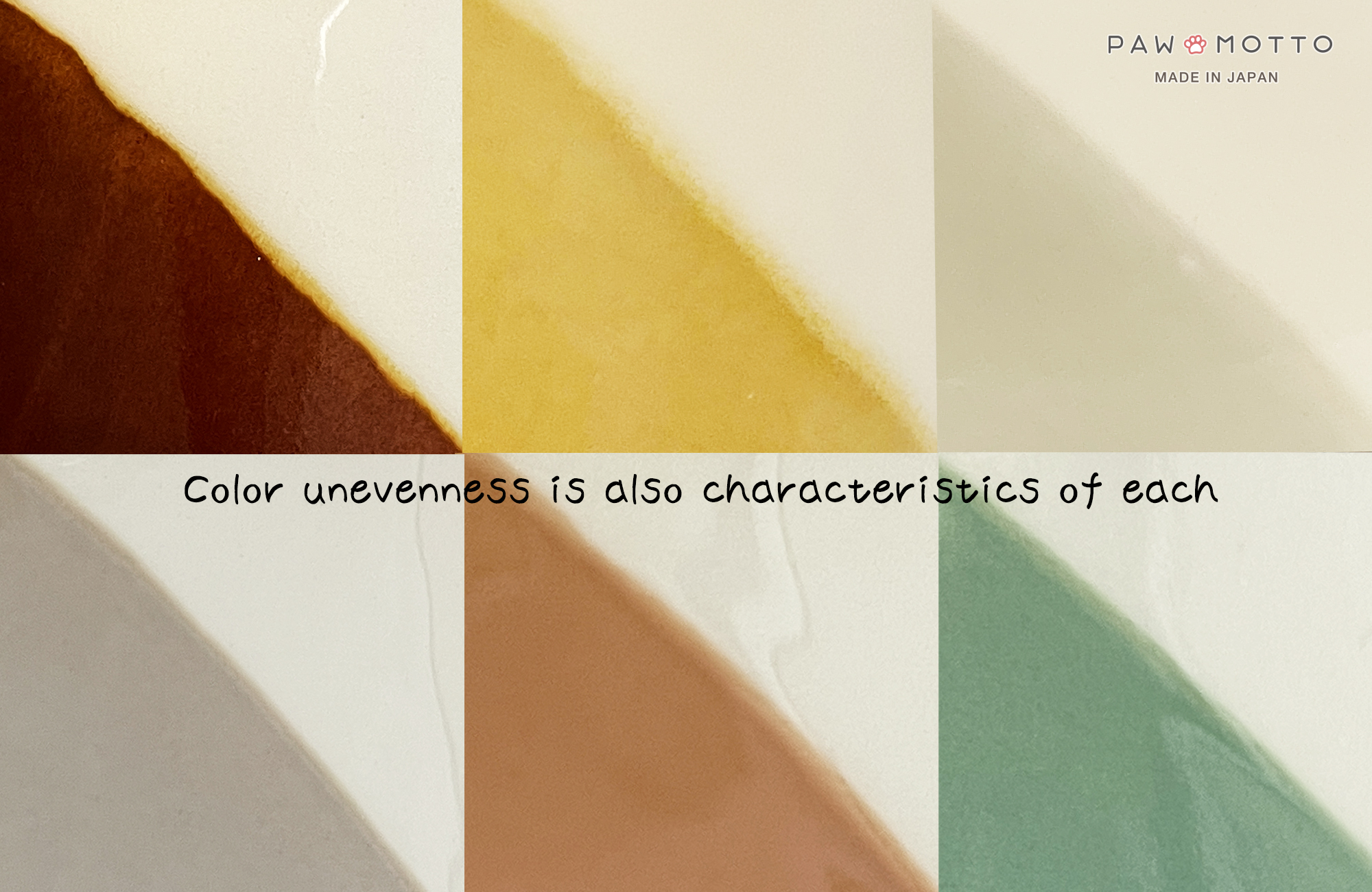 "Color variations"
【Basic Colors】(top row)
"Brown", "Mustard", and "Gray" have a slightly translucent color part and are recommended for those who enjoy Japanese-style and the subtle shading of glaze.
【Soft Colors】(bottom row)
"Beige", "Coral", and "Green" have less shading in the color part and are slightly more modern in color.

"Summary of features"
【BENEFIT POINTS】
1)Japanese ceramic: High-quality, traditional ceramic from Japan.
2)Anti-spill design: Prevents spills and reduces mess while your pet eats.
3)Cat-friendly bowl: Specially designed to be comfortable and easy for cats to use.
4)Japanese Vet-recommended: Recommended by veterinarians for its quality and design.
5)Hygienic: Crafted to meet human product hygiene standards, ensuring your pet's health and safety.
6)Easy to clean: Quick-drying design makes cleaning a breeze.
7)Comfortable to use: Rounded shape and perfect size for easy handling.
【Specification of Food Bowl】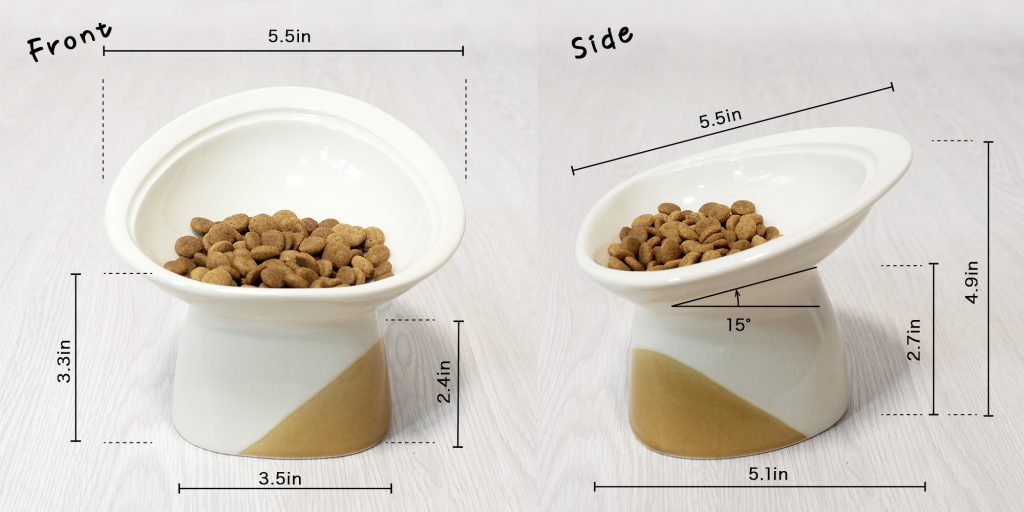 Material: Semi-Porcelain
Dimensions: approx. H4.9 x W5.5 x D5.1 inches
Weight: approx. 1 lb (16 oz / equivalent to 475g)
Food Capacity: about 0.9-1.1oz Recommended (up to 2.1oz)
Other features: Microwave and dishwasher safe
【CAUTION】
This product is specifically designed as a cat bowl and should not be used for any other purpose. This is a ceramic product. Handle with care as breakage may cause injury. Do not use when damaged. Do not use in the oven. Please avoid heating the empty bowl in a microwave. Keep out of reach of children. Slight imperfections in shape or color due to the nature of materials are not defects that affect product quality. Product specifications are subject to change without notice.
"Official design patented product"
US Design Patent No. US D973,972 S has been granted to PAW-MOTTO Cat Food Bowl. This means that the design of the bowl is protected under United States patent law as an ornamental design for a pet food bowl.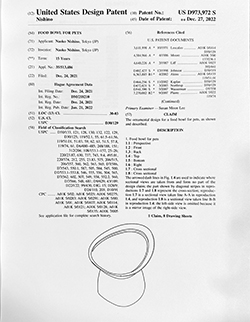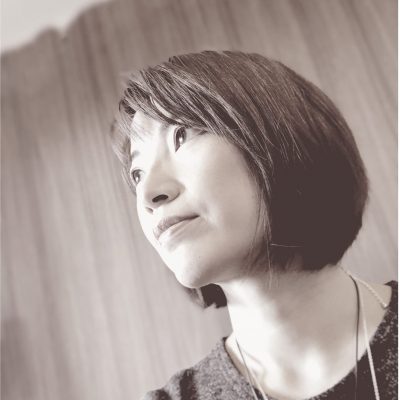 "About Designer"
She has over 20 years of experience in creative work, with extensive knowledge ranging from analog to digital. Additionally, she has over 20 years of experience living with pets such as dogs and cats, and currently shares her home with four cats. By the way, she has been living with cats for over 10 years.